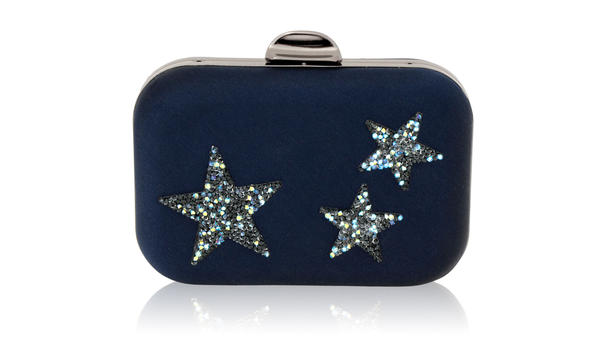 Excited to see our new charity project mentioned in the SWAROVSKI ELEMENTS blog this week!  We designed two midnight blue silk clutch bags studded with SWAROVSKI ELEMENTS crystal stars specifically to benefit the amazing PUPPIES BEHIND BARS (PBB) organziation.
On their website PBB describes their mission:
"Puppies Behind Bars (PBB) trains prison inmates to raise service dogs for wounded war veterans and explosive detection canines for law enforcement. Puppies enter prison at the age of eight weeks and live with their inmate puppy-raisers for approximately 20 months. As the puppies mature into well-loved, well-behaved dogs, their raisers learn what it means to contribute to society rather than take from it. PBB programs bring the love and healing of dogs to hundreds of individuals every year. The dogs bring hope and pride to their raisers, and independence and security to those they serve."
Inge Christopher is donating 25% of the proceeds of the sale of each PBB handbag to this very worthwhile charity.  Help us support PBB and get a beautiful clutch handbag that will take you from holiday parties to weddings and everywhere in between. Choose between our stylish PBB Minaudiere and our chic PBB Foldover Clutch.
Twinkle, twinkle.
~K