A fresh batch of party-invites brings with it the fun of deciding what to wear to the next wedding, also necessitating the hunt for the perfect party clutch, the ultimate finishing touch to your wedding guest outfit. (Bonus: Find one you can rock all season long, post-wedding!)
While we love the compact size of an evening purse or a party clutch, we know too well that it can sometimes be a challenge to fit all your essentials.  From snakeskin to silk, carved wood to crystals, clutches are our DNA here at Inge Christopher, and we design their every detail not just for looks but for functionality as well.  So to help you prep effortlessly, here's our edit on what to bring to a wedding/party - making it a breeze to squeeze into practically every stylish and fancy clutch.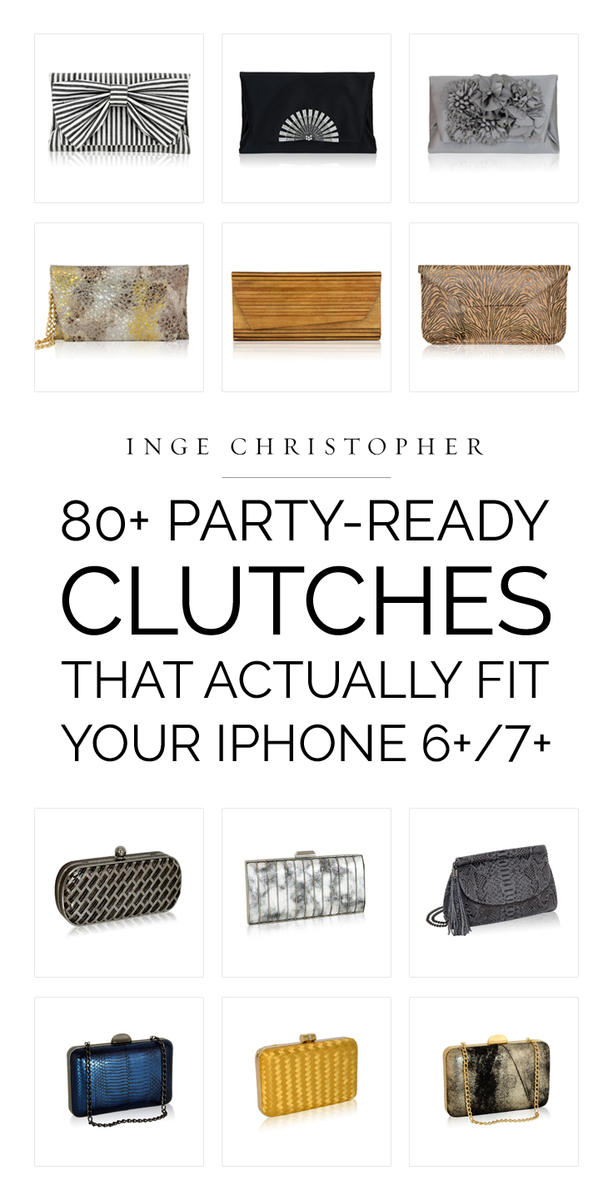 Phone: A challenge of evening purses and clutches everywhere, the ever-enlarging iPhone. My 6 Plus is particularly tricky, sometimes confining smaller clutches to the closet. Fortunately this gives me a legitimate reason to buy trendy new clutches made for my XL phone in mind.
Bobby Pins: Mini and magical, bobby pins are the best for keeping hairstyles in
place and providing extra volume throughout the evening.
Hair Tie: Don't get caught in the summer heat without one! Or the wind, for that
matter. A hair-tie is an easy addition to any bag, but I've also seen some cool
metal bracelet/hair-tie hybrids to keep them around your wrist without bringing
down your look.
Safety Pin: Another mini miracle worker! I always stash one in my evening purse
to bring to a wedding reception to troubleshoot any potential wardrobe
malfunctions.
Cash: Somehow there are still "cash only" bars in 2017. Fortunately a $20 or two
is an easy addition to any bag. Also comes in handy if you're splitting the bill
among friends.
Credit Card, Debit Card, ID: Three little cards I never leave home without. Slip
them in your bag's interior pocket and you're good to go.
Keys: Nobody likes sleeping outside in their party clothes! I take my house key
off its keychain for maximum space-saving efficiency.
Lipstick & Eyeliner: Small yet mighty makeup for a quick refresh.
Mini Perfume: Spray twice on the go and you're all set. Doubles as deodorant in
a pinch! Sample perfume tubes are the perfect size, but make sure you like the
scent before you take it with you! Jo Malone scents are generally fail-safe.
Minty Gum: So fresh and so clean, clean. From brunch to the dance floor, fresh
breath is important. Especially at weddings, where you want to be on you're A-game. Whether you're bringing a date or on the lookout for a new love interest,
be sure to stash a few pieces in your purse to stay minty fresh.
2 Bandaids: For when you realize those heels weren't made for dancing.
Tissues: The ultimate wedding clutch essential for the emotionally in-touch, and a
must-have for bridal clutches.
Small Compact Mirror: For keeping your look on point without having to walk to
the restroom. Stick one in your clutch for weddings to make sure your mascara
doesn't run after inevitably tearing up during the vows. Extra value if you have a
mirrored mini pressed powder.
For Daytime, Add:
Small Sunscreen: Because a sunburn is never a good look. Sunbum's face stick
is super small, goes on sheer, and smells like a smoothie!
Sunglasses: Now this one can be tricky, friends. Chic sunglasses are a must for
sunny days, but clunky cases are best left at home. Pro Tip: bring along the lens
wipe to drape over the lenses if you're worried about scratches (or just keep 'em
on your face).
If Size Allows:
Foldup flats: If you're the type whose love of handbags is paralleled only by your
love of statement heels, the aforementioned bandaids might not be enough at the
end of the night. Occasionally I'll bring along a slim little pair of foldup flats for
backup, especially at weddings where you don't want your shoes to keep you off
the dance floor. Foldup flats can be a challenge to fit into most mini clutches or
any hand purse for bridal parties, but are an easy squeeze in a jacket pocket.
Yosi Samra makes great ones, and at the end of a long night you'll be happy to
have them.
So there you have it! Every tip and trick in our clutch-carrying book. Did we miss
anything? Let us know in the comments. And enjoy all the stylish fun to come!